Casey Farm
Woodlands of Casey Farm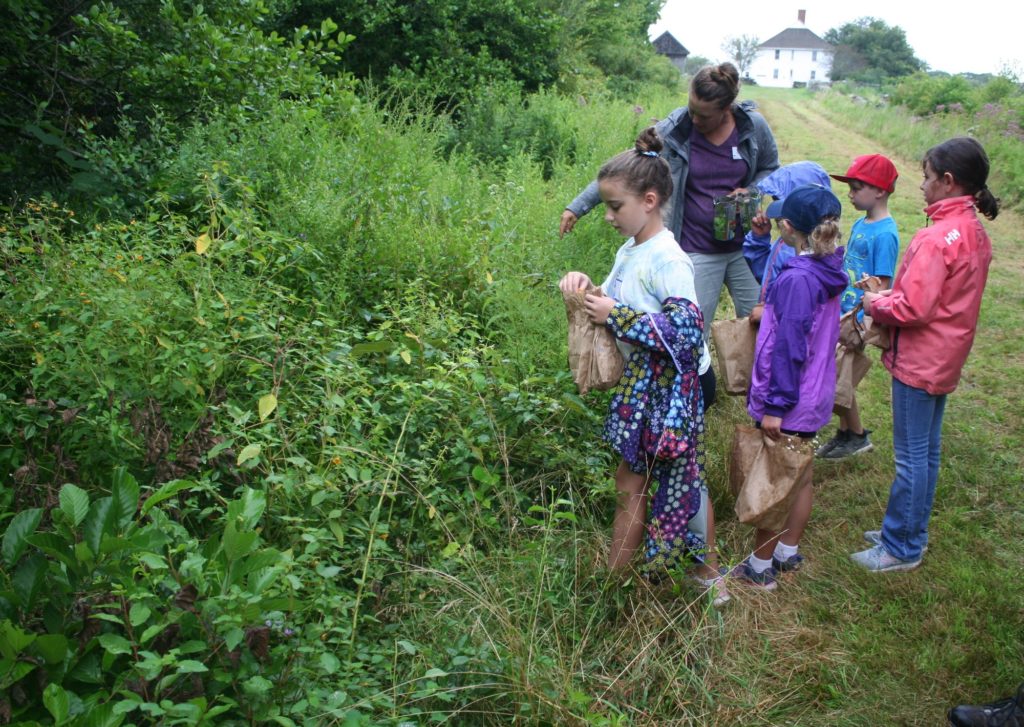 To the west of the farm complex, "down the lane" are some boggy areas including the remnants of a cranberry bog planted and engineered in the late nineteenth century by Thomas Lincoln Casey, and acres of woods left just as his son specified when he donated the farm in 1955. There are a couple of miles of trails and many miles of dry-laid stone walls through the woods hinting that in the distant past, these areas were divided up for planting fields or pastures as with so many old farms of New England.
Access to the trails via the farm complex (where the house and barnyard are) is limited during non-public hours and domesticated animals are not allowed in the farm complex with the exception of licensed guide animals. When our neighbors to the north, the King Preserve, have their trails open, you can more easily access our western trails from theirs and we are open from dawn to dusk. Please respect the rules of the King Preserve and those of our neighbors at Camp Grosvenor. The western-most land, on the Narrow River, is leased to the Boys and Girls Club of Newport County as Camp Grosvenor. These portions have restricted public access especially when camp is in session.
Our neighbors have written a few paragraphs to make your experience in the Casey Farm woodlands even more interesting.
Camp Grosvenor
by The Boys & Girls Club of Newport County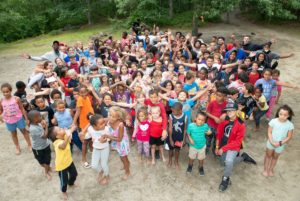 Historic New England's Casey Farm has been part of the Boys & Girls Clubs of Newport County's tapestry since the club's inception in 1956. Through its stewardship of Camp Grosvenor, located on ninety-five acres of Historic New England's land, and partnership with Casey Farm's education programs, the club has been providing a quintessential summer camp experience to hundreds of children and youth from Newport and Washington counties for decades.
The club's mission is "to inspire and enable all young people, especially those who need help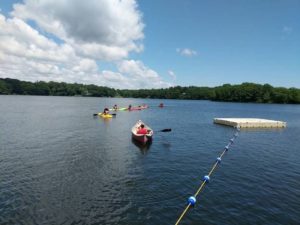 most, to realize their full potential as productive, responsible and caring citizens." The program at Camp Grosvenor delivers traditional activities, such as swimming, hiking, and kayaking, and bolsters academics through experiential learning and enriching, fun activities. Casey Farm's summer camp education programs figure prominently in the club campers' enrichment experiences, where they can explore and learn about this historical, working farm. Conversely, Casey Farm campers visit Camp Grosvenor for waterfront activities.
"Camp Grosvenor has provided us with a unique way to meet our mission and create indelible, inspiring experiences for our club kids," stated club President and CEO Joe Pratt. "The camp's 95 acres on the Pettaquamscutt River allow them the opportunity to gain an appreciation for nature and conservation, and the one-mile walk down the wooded path to Casey Farm ices the cake with hands-on, interactive exposure to local history."
–Kelley Coen, Director of Development
Boys & Girls Club of Newport County
www.bgcnewport.org
The Ecology of the Narrow River
by the Narrow River Preservation Association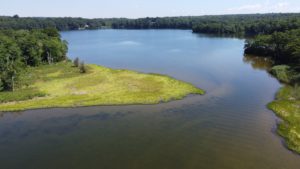 The Pettaquamscutt Estuary, known locally as Narrow River, forms a natural boundary between the towns of Narragansett, South Kingstown, and North Kingstown in southern Rhode Island. It is an approximately six mile (10 km) long tidal inlet that carries seawater north from Rhode Island Sound around Little Neck at Narragansett Town Beach, under Sprague Bridge, past marshes and under Middle Bridge, up a narrow channel bordered by homes and some marshes, under Lacy (Bridgetown) Bridge to a series of two deep kettle basins scoured out by glaciers. Between these basins is a shallow sill, called Casey's Sill, because it marks the westernmost boundary of Casey Farm. The seawater continues up Gilbert Stuart Stream, all the way to the dam at Gilbert Stuart Birthplace. There the seawater is met by freshwater flowing south that started at Silver Spring Lake, flowed along Mattatuxet River and then into Carr (Pausacaco) Pond and into Gilbert Stuart Stream.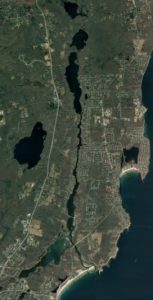 Most of the Pettaquamscutt Estuary is shallow and the seawater and freshwater meet and mix, resulting in a gradient of salinity from ocean values of 32o/oo at the mouth to 0 o/oo in the streams. This allows a variety of shellfish types to thrive along the riverbed and for eelgrass and marshes to flourish and provide homes for fish, crabs, and other estuarine organisms. River herring make the trek all the way up from the ocean to the freshwater ponds to spawn. These animals and plants support populations of birds such as salt marsh sparrows, snowy egrets, blue herons, black ducks, ospreys, and eagles, resulting in a balanced ecosystem. The kettle basins provide another type of ecosystem. Upper Pond at 43 ft (13 m) deep and Lower Pond at 65 ft (20 m) deep both have waters that are naturally without oxygen (anoxic) below 10 ft (3 m). These deep waters support a unique ecosystem that runs on sulfur instead of oxygen and scientists come from around the world to study the microscopic plants and animals found there.
Although Narrow River and its watershed comprise only 14.4 square miles (35.5 square km), its diversity of ecosystems and abundance of plant and animal life have been deemed worthy of protection and oversight resulting in the establishment of the Narrow River Preservation Association (NRPA) in 1970. In 2002, NRPA became the state-designated watershed council for Narrow River and a member of the RI Rivers Council. Now in its 50th year, NRPA continues to not only be a watch dog for proper development and use, but has established a reputation as the organization that pro-actively seeks to understand Narrow River, as evidenced by the almost 30 years of water quality monitoring that NRPA has undertaken.
–Veronica M. Berounsky, NRPA Vice President
October 2020
http://narrowriver.org/
The King Preserve
by the Nature Conservancy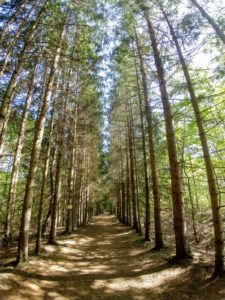 The King Preserve offers three miles of wooded trails, framed by stone walls and historic cart paths, sloping gently toward the Narrow River. Cool streams meander through the preserve, which was once a Girl Scouts camp. Today, it's named for Dave King, who was a leader in efforts to protect Rhode Island's open space for everyone to enjoy.
The Nature Conservancy is a global environmental nonprofit working to create a world where people and nature can thrive. We join with partners to protect Rhode Island's special places, restore its rivers and coastal waters, and connect people with nature. Current projects include farm and forest protection, reducing polluted stormwater runoff, improving fish habitat in Narragansett Bay, and building broad community support for climate action.