Casey Farm
What's Happening at Casey Farm?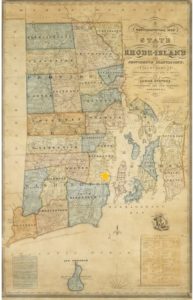 Casey Farm is Historic New England's most visited site, normally having about fifty thousand visitors annually. There's a lot happening here! It is one of thirty-eight sites owned by Historic New England and one of four in Rhode Island. To find out more about our hours and how you can get involved, please call 401-295-1030 or visit HistoricNewEngland.org.
Museum
The property is listed on the State and National Register of Historic Places and we consider all of the three hundred acres as museum space offering testimony to the many people who have inhabited the site. The circa 1750 farm house includes a museum gallery that is part of a guided tour, but visits to see the family cemetery and barnyard with our farm animals are also part of the guided tour. Historic New England maintains the farm buildings, stone walls, gardens, pastures, fields, and woodlands at one of the few intact plots left from the colonial era in Rhode Island.
Working Farm
Casey Farm is a Rhode Island Certified Organic farm growing vegetables, fruits, herbs, and flowers and raising barnyard animals. The produce and eggs, honey, maple syrup, and other local items are available through a weekly farmers market with several other vendors offering locally produced goods held seasonally from mid-May through October on Saturday mornings. A share of Casey Farm's produce and access to buying additional items can also be purchased in advance through our Community Supported Agriculture (CSA) program. CSA members sign up for a twenty-week share starting mid-June through the end of October.
Children's Education
Children's education programs are offered to schools, town recreation departments, and home schooled students throughout the year either here at the farm or at the schools. Our signature program is Project CHICK, where we teach about life science through chickens hatching in classrooms. We also offer the Casey Farm Summer Camp with week-long or day-long activities in July and August, along with many other farm-based children's activities throughout the seasons.
Special Events
We offer activities for people of all ages, including seasonal guided and group tours, special events, rentals for private functions, and programs for adults and families.
Conserved Open Space
Though the farm core with the farm house, barnyards, and farm fields may have limited public access when we are not offering a public activity, staff work here year-round and you can visit in person year-round to hike on our two miles of walking trails. The trails to Casey Point and to the woodlands are open dawn to dusk and you can find hiking maps on Casey.Farm.