Casey Farm
The Farm House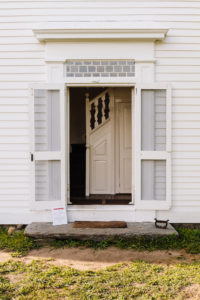 Spend as much time as you like in this virtual visit to the circa 1750 farm house. By far the oldest building on site, it is the second farm house on this land as far as we know. It was built in the mid-eighteenth century for Daniel and Mary Wanton Coggeshall, the third generation of Casey ancestors. Though a relatively modest house built for Quakers, it has a few fancy features you can seek out.
For most of its life, people who have worked the land, raised animals, and cared for the farm have lived inside. Today, employees of Historic New England have their offices here. The Casey Farm House is a homey place to work for seven year-round staff people, several seasonal staffers, and colleagues who come occasionally to meet or make repairs at this regional office. Inside, it's a little like being aboard a ship because some of the ceilings are low, we have to keep all the supplies neat and ship-shape, none of the floors are flat, and best of all we have a great view of the water.
Two small additions were added to the north that are still in existence, but a feature on the south was removed after 1955. The front porch, or piazza, was added circa 1840s and was made more formal circa 1900. Take a look for yourself what has changed and what has not over the years.