Casey Farm
Many Gardens to Visit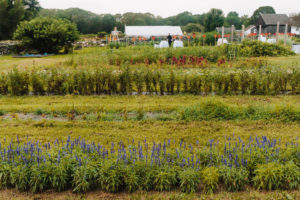 The first recorded garden in the archives is the "sasyard" from Silas Casey's eighteenth century papers. A derivation of "sauce yard," this was a kitchen garden close to the location of the first farm house on the property, now marked only by a well. Here is still where our CSA members cut flowers and herbs and where we grow a nice variety of seasonal vegetables for education program participants. It is still surrounded by the same wall Silas Casey saw.
The Education Garden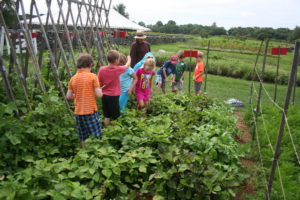 The Education Team plants and tends this garden and teaches children how to do the same. Connecting children to their food sources with hands-on experiences encourages healthy eating habits and an awareness of eating what is in season, the benefits of organic growing, and the pride in growing something. Much of the produce is consumed as snacks for kids or demonstration cooking. Kids and grown-ups even learn the medicinal properties of herbs in this garden. If you visit on a tour, you might just get invited to pick a sample for yourself.
The CSA Garden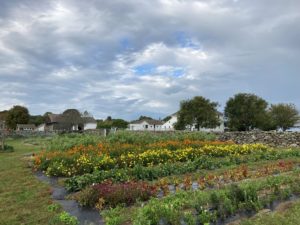 The Farm Crew plans and cares for this garden for the benefit of the Community Supported Agriculture members. The rows of flowers are part of the farm share, and many of the people working here get a share in return for their labor, called workshares. For several years our head gardener has been Sheila Nixon, who is multi-talented as a tour guide and farm teacher, too. It is labor of love, to be sure—and a garden full of love is a good place to get married! Please don't pick from the ornamental beds around the pergola because those are for the lovebirds.
Pollinator Gardens
One could argue that all of Casey Farm is a pollinator paradise, because we use no pesticides and grow so many plants here. Still, we all know that pollinator insects are the key to producing food, and supporting their health is vital. Plus, the workshare-supported beehives on the property produce delicious honey! We have long maintained parts of the property with meadows of native plants that are the bee's knees to pollinators. The volunteers from the Pollinator Rescue Project of Rhode Island added an even more diverse array as a demonstration garden just adjacent to the parking area so everyone coming to visit can linger and learn.
Ornamental Beds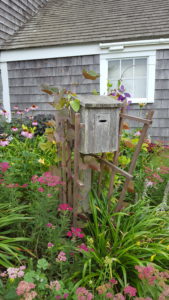 Tucked beside the stone walls, near the old woodshed, near the Share Barn, and everywhere you look are an ever-changing display of blooms that our garden volunteers and workshares have spent many hours cultivating. Their expertise and passion shows!