Casey Farm
The Ecology of Narrow River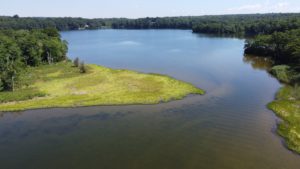 The Pettaquamscutt Estuary, known locally as Narrow River, forms a natural boundary between the towns of Narragansett, South Kingstown, and North Kingstown in southern Rhode Island. It is an approximately six mile (10 km) long tidal inlet that carries seawater north from Rhode Island Sound around Little Neck at Narragansett Town Beach, under Sprague Bridge, past marshes and under Middle Bridge, up a narrow channel bordered by homes and some marshes, under Lacy (Bridgetown) Bridge to a series of two deep kettle basins scoured out by glaciers. Between these basins is a shallow sill, called Casey's Sill, because it marks the westernmost boundary of Casey Farm. The seawater continues up Gilbert Stuart Stream, all the way to the dam at Gilbert Stuart Birthplace. There the seawater is met by freshwater flowing south that started at Silver Spring Lake, flowed along Mattatuxet River and then into Carr (Pausacaco) Pond and into Gilbert Stuart Stream.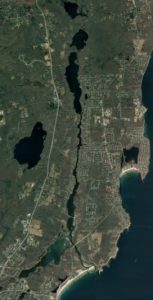 Most of the Pettaquamscutt Estuary is shallow and the seawater and freshwater meet and mix, resulting in a gradient of salinity from ocean values of 32o/oo at the mouth to 0 o/oo in the streams. This allows a variety of shellfish types to thrive along the riverbed and for eelgrass and marshes to flourish and provide homes for fish, crabs, and other estuarine organisms. River herring make the trek all the way up from the ocean to the freshwater ponds to spawn. These animals and plants support populations of birds such as salt marsh sparrows, snowy egrets, blue herons, black ducks, ospreys, and eagles, resulting in a balanced ecosystem. The kettle basins provide another type of ecosystem. Upper Pond at 43 ft (13 m) deep and Lower Pond at 65 ft (20 m) deep both have waters that are naturally without oxygen (anoxic) below 10 ft (3 m). These deep waters support a unique ecosystem that runs on sulfur instead of oxygen and scientists come from around the world to study the microscopic plants and animals found there.
Although Narrow River and its watershed comprise only 14.4 square miles (35.5 square km), its diversity of ecosystems and abundance of plant and animal life have been deemed worthy of protection and oversight resulting in the establishment of the Narrow River Preservation Association (NRPA) in 1970. In 2002, NRPA became the state-designated watershed council for Narrow River and a member of the RI Rivers Council. Now in its 50th year, NRPA continues to not only be a watch dog for proper development and use, but has established a reputation as the organization that pro-actively seeks to understand Narrow River, as evidenced by the almost 30 years of water quality monitoring that NRPA has undertaken.
–Veronica M. Berounsky, NRPA Vice President
October 2020
http://narrowriver.org/