Casey Farm
Stone Wall Repairs
Through the generosity of donors and private foundations, Historic New England hired Mike Minto of Rhode Island Stone Walls to repair about seventy-five percent of these walls under the direction of our preservation manager, Margaret Back. The work started in October 2019 and was completed just before our sites had to temporarily close to the public due to the pandemic in March of 2020. It is solitary work anyway, and Mike only needed the occasional assistance of a farmer driving a tractor for the largest stones. Mike is a master at his art with a deep understanding of how these walls were built, and it was amazing to see him dismantle the damaged walls and rebuild them largely by hand.
Deep inside the wall dividing the farmhouse lawn from the garden (the one Reynolds Knowles had built), Mike found bricks that match the c. 1750 bricks in the central chimney of the farmhouse. He also found some wrought iron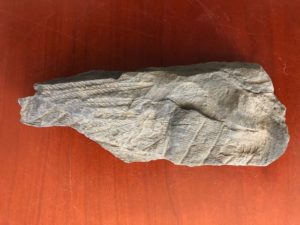 nails and pottery, giving us a good idea that this part of the wall hadn't been taken apart for three centuries or so. One of the best finds was this small rock used as infill in the garden wall. The gray shale was imprinted with fossils! A little help from our friends at the Natural History Museum and Planetarium in Roger Williams Park identified the plants as tree ferns, which were common in the tropical forests of 300 million years ago. The stone walls have many stories to tell.