Casey Farm
Stone Wall Builders
Similar to most Southern Rhode Island plantations, we have some documentation linking Casey Farm to slavery in the eighteenth century. Though none of the documents link the labor of enslaved people to building stone walls, it is plausible that enslaved African-Americans and Native Americans may have been involved. We intend that further research will shed some light on these questions.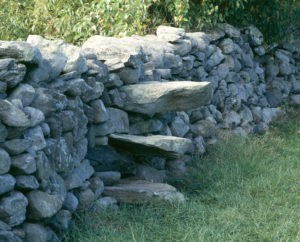 There is documentation in the Casey Family papers linking three different late-eighteenth century tenant farmers and a hired hand with wall construction. One of these people, Cezar Northup, was a free person of color, and several of his family members worked as farmhands.
Farm records tell us that one tenant farmer in the 1780s, Reynolds Knowles, built more than nine hundred feet of five-foot-tall walls around the barnyard and pastures in return for 650 pounds of Narragansett cheese! Back then this kind of cheese was a valuable commodity that Knowles could trade or sell.
Casey Farm's dry-laid stone walls still stand today, including some built by Reynolds Knowles around the "sasyard," the kitchen garden.  Even with the best stewardship, animals, weather, and people will inevitably cause damage to stone walls and several repair campaigns had been done over the years. By 2019, the walls in the most heavily visited public areas at Casey Farm near the farm house and barnyard needed several repairs.