Casey Farm
Farm House Gallery Intro
The farm house's museum gallery room was lived in by the first owners of the house, the Coggeshalls,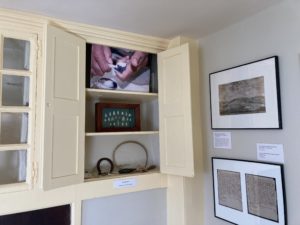 as their second-best parlor and later by their Casey descendants as a dining room. The comfortably-sized room has two windows and a fireplace with built-in cabinets. When the Casey family donated the property as a museum, they also donated family heirlooms that are today stored for their preservation in our collections facility, but you can see them today in this virtual gallery.
We are able to go beyond the gallery in many ways. Read about the unique culture of the early colonial "Narragansett Planters"–people of European descent who settled in the homeland of the Indigenous Narragansett people–and contrast that with its economic underpinnings in the labor of enslaved people. Hear from Lorén Spears, Executive Director of the Tomaquag Museum, about the partnership between our two organizations and the commissioned works added to the gallery. And, don't miss the chance to explore the Museum Gallery and even a whole lot of the 300 acres the Casey family donated in the 360-degree panorama!