Casey Farm
Cemeteries in Rhode Island
According to the Rhode Island Historical Cemetery Commission, there are more than 3,200 known cemeteries throughout the thirty-nine towns in the state. They are documented in a database maintained by the commission that is a national model for accuracy which was started by researchers including John E. Sterling. Sterling discovered that cemeteries in Rhode Island are laid out in a much more dense pattern than other New England states. The reason is that Rhode Island was the only colony with separation of church and state. Sterling wrote that "In the Massachusetts Bay Colony or in Plymouth Colony each town was essentially a parish of the church. There was a town green with a meeting house, a place to browse cattle and exercise the militia, and usually a cemetery." In Rhode Island where people settled to practice religious freedom that they could find nowhere else in the world, rural towns had several small denominations that could meet in private homes. When someone died, they were most often buried in a family cemetery which was the pattern at Casey Farm.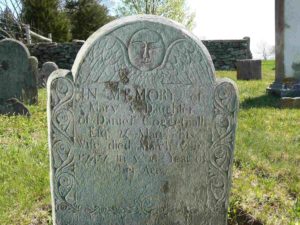 In larger towns that could support churches, meetinghouses, or synagogues, burial grounds were adjacent to these. The most densely populated towns of Newport and Providence had municipal cemeteries; Newport's Common Burying Ground was opened in the 1660s and Providence's North Burial Ground in 1700. God's Little Acre, the African American burial section in Newport, reflects the fact that Rhode Island had a larger African American population than surrounding areas from its heavy involvement in the business of slavery, and from the many descendants of enslaved people who continued to live and work here.
John Sterling tells us that this "pattern of small family cemeteries continued in Rhode Island until about 1850 when almost every town built large public and private garden cemeteries after the style of Mt. Auburn Cemetery in Cambridge, Mass. While there were still some burials in the small family cemeteries through the rest of the nineteenth and into the early twentieth century, the pattern was to buy plots in these new cemeteries as family members died. Many of the small family cemeteries were removed to these new larger cemeteries."
The family cemetery at Casey Farm is unusual in that burials continued from the early eighteenth century through to the mid-twentieth and older burials were even moved in to keep six generations of the family in one place. Are there other, unrecorded burials in this place? Fieldstones with no carving and broken stones suggest that is true, and future research may reveal more about all the people interred at Casey Farm.