Casey Farm
Boys & Girls Club of Newport County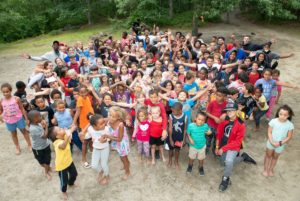 Historic New England's Casey Farm has been part of the Boys & Girls Clubs of Newport County's tapestry since the club's inception in 1956. Through its stewardship of Camp Grosvenor, located on ninety-five acres of Historic New England's land, and partnership with Casey Farm's education programs, the club has been providing a quintessential summer camp experience to hundreds of children and youth from Newport and Washington counties for decades.
The club's mission is "to inspire and enable all young people, especially those who need help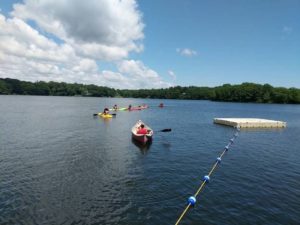 most, to realize their full potential as productive, responsible and caring citizens." The program at Camp Grosvenor delivers traditional activities, such as swimming, hiking, and kayaking, and bolsters academics through experiential learning and enriching, fun activities. Casey Farm's summer camp education programs figure prominently in the club campers' enrichment experiences, where they can explore and learn about this historical, working farm. Conversely, Casey Farm campers visit Camp Grosvenor for waterfront activities.
"Camp Grosvenor has provided us with a unique way to meet our mission and create indelible, inspiring experiences for our club kids," stated club President and CEO Joe Pratt. "The camp's 95 acres on the Pettaquamscutt River allow them the opportunity to gain an appreciation for nature and conservation, and the one-mile walk down the wooded path to Casey Farm ices the cake with hands-on, interactive exposure to local history."
–Kelley Coen, Director of Development
Boys & Girls Club of Newport County
www.bgcnewport.org